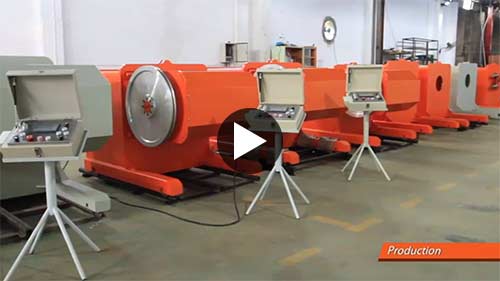 KangHua is a diamond wire saw machine manufacturers and diamond wire saw suppliers from China.As a diamond wire saw suppliers, we has been specializing in the design, research and development, production, sales and after-sales service of diamond wire saw machine for many years. Kanghua cooperated with Guilin University of Electronic Science and Technology for research and development together. And we at last obtain 3 national authorized patents.
The fourth-generation diamond wire saw machine of Kanghua Company adopts our own "rotary speed reducer of double supports", which caused a sensation in the market. The product is upgraded to a text display control system, a permanent magnet synchronous driver, and communication transmission and dual PLCs control are the first in the industry.
Quarry with our diamond wire saw machine is environmentally friendly, safe and high yield. Stone quarried is with no internal injuries. Large size of stone block can be quarried by it. The comprehensive cost of quarry is lower, the operation of machine is very simple and the user gives our machine the best evaluation.