Kanghua fifth generation power-saving master series mine wire saw machine grand listing limited time offer officially opened
Good news! In order to celebrate the grand launch of the Power-saving Master series of the fifth-generation wire saw machine of our company (Guilin Kanghua Electromechanical Technology Co., Ltd.), the four-generation and fifth-generation wire saw machines are limited to 2000-5000 yuan each. The activity time is 2019.6.01-6.30, which lasts for one month. I would like to thank all the new and old customers for their care and sincere greetings.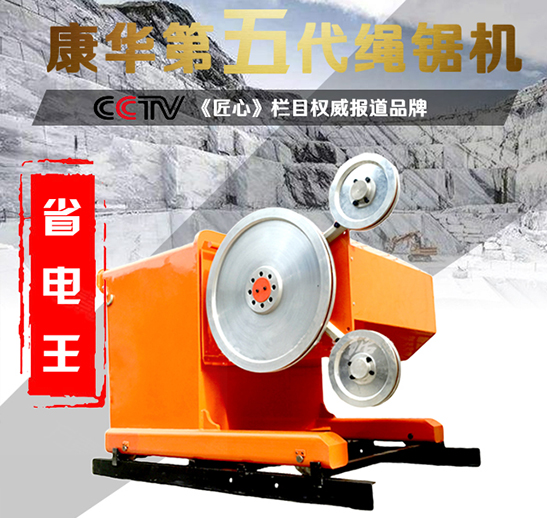 Performance features of Kanghua Most Power-Saving wire saw machine:
The fifth generation Most Power-Saving(MPS) series wire saw machine uses the latest technology with superhigh efficiency permanent magnet synchronous motor and permanent magnet synchronous driver. Its power saving effect is remarkable, and the saving electricity fees can recover the purchase cost within three years. The fuel saving effect is more significant if using a electric generator.
1.Compared with the same power ordinary wire saw machine, the Most Power-Saving can save the electricity cost about 30% and improve the power by one grade.
2. Compared with the same effect, 45KW MPS can be used to replace 55KW ordinary wire saw machine, and 55KW MPS can replace 75KW ordinary wire saw machine, which can save about 40% of the electricity cost.
3. The rotor of superhigh efficiency permanent magnet synchronous motor is excited by rare-earth permanent magnet, and does not need excitation current. It has the characteristics of high efficiency, high power, low operating current, high power-saving, low temperature rise, small size, light weight, and durable bearings , long service life and low failure rate.
4. The permanent magnet synchronous motor has the characteristics of constant torque. It is easy to start cutting at low speed, which can avoid manually dragging wire saw to assist the starting when cutting large surface. It is labor-saving and safe.