Stone Cutting Machine Introduction:
The stone cutting machine cutting area for marble is 10-16 m²per hour, and for granite, it is 8-12 m²per hour. The stone cutting machine wire saw linear speed ranges from 0 to 40m per second. And maximum wire saw length can be 150m, which guarantees cutting efficiency and area. This stone cutting machine is very easy to understand and operate, there are only several buttons in the control panel.
Stone Cutting Machine Features:
With the high quality diamond wire, Guilin Kanghua stone cutting machine can be used to cut various kinds of stones, such as marble, granite. Guilin Kanghua fifty generation stone cutting machine is equipped with double-inverter control, which has set up a landmark in diamond wire saw machine field. With the help of inverter, the cutting speed and feeding speed can be controlled automatically, which does not need operator to be always at the side of stone cutting machine.
The stone cutting machine has a rail which can guarantee the machine can work even in slope position, avoiding the risk of sliding. The stone cutting machine can do ground level cutting and parallel cutting with maximum width 2200 mm without moving the machine.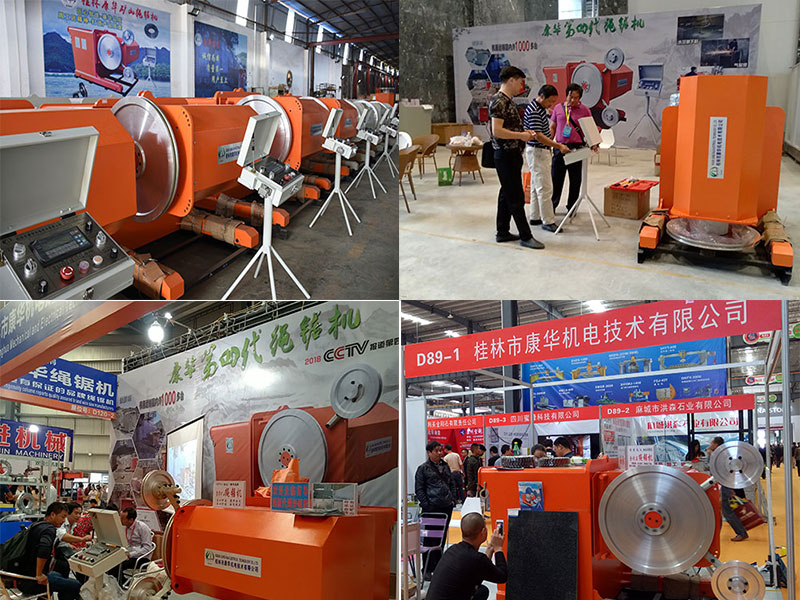 Stone Cutting Machine Clients:

Stone Cutting Machine Advantages:
1) Slewing Reducer with Double Support--Power Head Never Moves Down;
2) Integral Sealed Bearing--More than 2 years Working Life;
3) Permanent Magnet Synchronous Machine--More Powerful and High Torque;
4) Screen Display Control System--Lower Failure Rate and Easier Operation;
5) Dual Operation System--Guarantee No Breakdown and Continuous Production;
6) Integral Lifting Lug--Safe Hoisting;
7) Thicker Steel Plate--Strong and Durable;
8) Automatic Cutting--Higher Cutting Efficiency and Effect;
9) Inching Function--Convenient to Find the Wire Saw Connector;
10) Automatically stop when cutting is almost completed--Manual control will work after automatic cutting stops;
Stone Cutting Machine Video: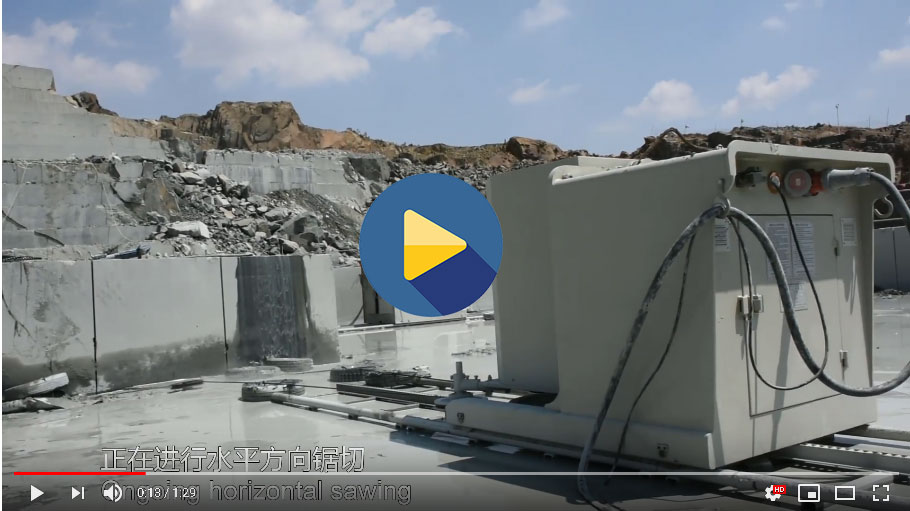 Technical Parameter of Stone Cutting Machine:
| | | | | |
| --- | --- | --- | --- | --- |
| | PSM37 | PSM45 | PSM55 | PSM75 |
| System power(KW) | 41 | 49 | 59 | 79 |
| Mainmotor power(KW) | 37 | 45 | 55 | 75 |
| Main flywheel diameter(CM) | 700 | 800 | 800 | 800 |
| Wire saw speed(M/S) | 0-40 | 0-40 | 0-40 | 0-40 |
| Max. wire saw length(M) | 20-80 | 20-100 | 20-120 | 20-150 |
| Walking motor power(KW) | 0.75 | 0.75 | 1.1 | 1.5 |
| Rotation angle | 360 | 360 | 360 | 360 |
| Walking speed of machine(m/h) | 0-40 | 0-40 | 0-40 | 0-40 |
| Rail length | 2MX3 | 2MX4 | 2MX4 | 2MX4 |
| Allowed working temperature | -15~+40 | -15~+40 | -15~+40 | -15~+40 |
| Net weight(KG) | 2200 | 2300 | 2600 | 3300 |
| Dimension(CM) | 185X120X130 | 185X120X130 | 185X120X130 | 200X130X135 |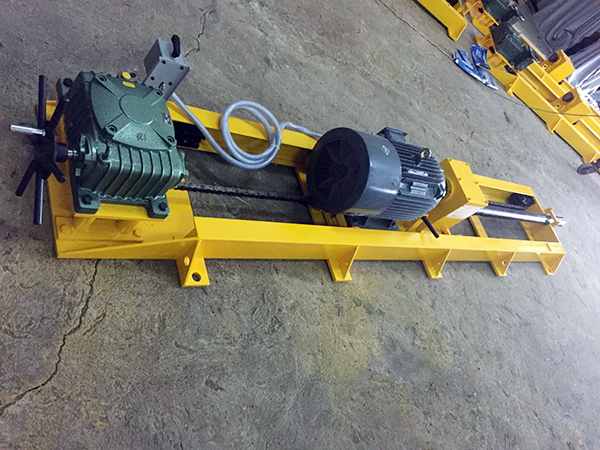 Horizontal drill is used for drilling horizontal rope-piercing holes in marble, granite and other stone mines. Horizontal drill is better and faster than ordinary drilling, and has the features of high drilling efficiency, long life, convenient drilling a
View Details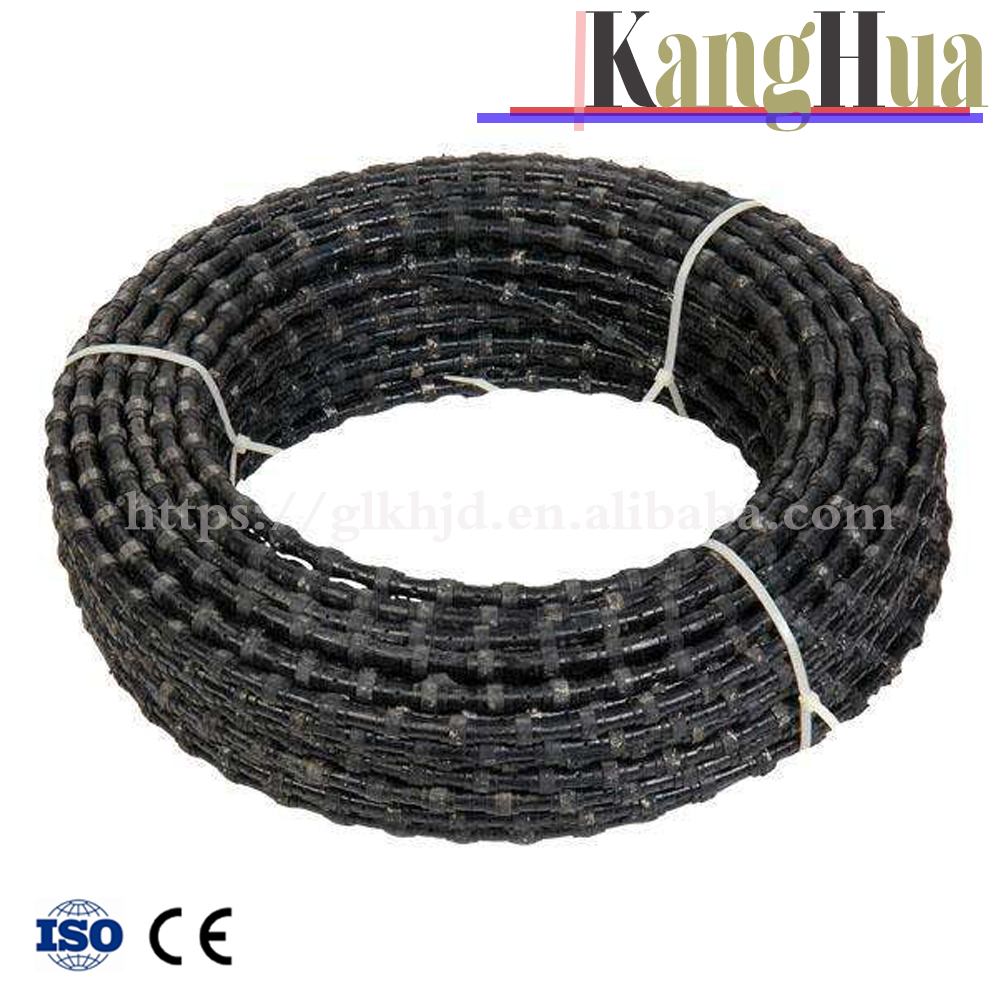 Diamond wire saw blade mainly used for cutting granite, marble, concrete, reinforced concrete, steel or metal structures, buildings, Bridges, shipwrecks, cable
View Details